April 17, 2020
Tanya Chen, BuzzFeed News Reporter | Stephanie McNeal, BuzzFeed News Reporter
This week's newsletter: The resilience and shamelessness of turning these tough times into a social media marketing campaign, and a PSA about those infamous get-followers-quick "giveaways."

Instagram / @kendallvertes
Brands and influencers have also quickly realized how mutually beneficial it is for their consumers and their image to align themselves with (seemingly) doing public good.
On Wednesday, clothing company Aerie launched a major campaign on TikTok to ~spread positivity~ with the hashtag #aerieREALpositivity. Their rollout included some of the platform's biggest stars like Charli D'Amelio and Denise Mercedes, which meant it instantly became one of the biggest trending hashtags on the app. It's inspired thousands of others who weren't paid to also dance and ~spread positive messages~ about how they're spending time at home.
"We want you to love your REAL self, that's why we make clothes that make you feel REAL good!" the company wrote on its hashtag's landing page. It of course also included links to purchase its clothing.
And in a completely shameless approach, Fashion Nova straight-up sent push alerts and text messages to customers asking them to spend their stimulus checks on their merch.
I've reached out to Aerie, Fashion Nova, and other brands mentioned in this newsletter.
You might be thinking, Of course companies will capitalize off of these times! Capitalism is the name of the game! However what continues to give me more pause is how much influencers do not represent the times, but still continue to influence these abnormal times. Tonally, influencers are shilling like it is any other day in any other moment in history.
This is probably in high contrast to the everyday conversations or thoughts you may be having with your regular self and your regular-folk friends around you. In real life, nothing feels normal anymore. On social media, it's literal business as usual.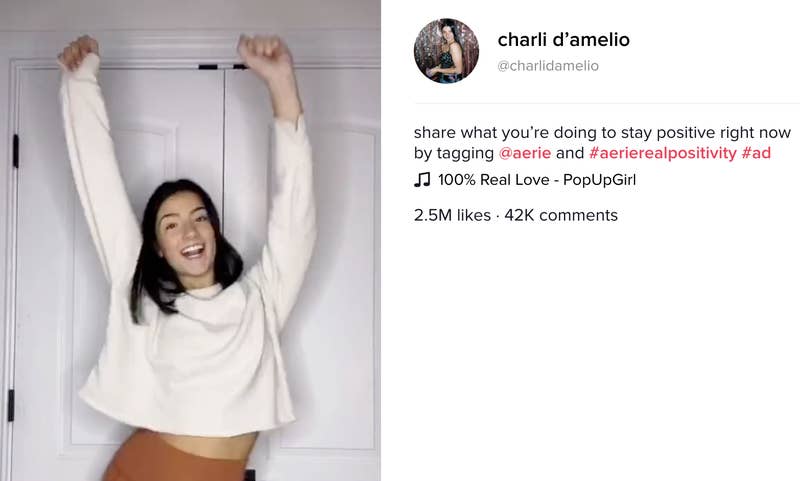 TikTok / @charlidamelio
And, look, I get it. Keeping up positivity and any sense of normalcy is actually both normal and very important. For young people who have a huge platform, it's probably what feels most natural these days. Engaging followers, maintaining their public image, and making money from it is their normal.
It might just be cool and worthy for your favorite online personality to acknowledge the tonal shift. Or how they're struggling or adjusting, if they are. If you have influence, wield that influence honestly?
Do I want to buy your cheap tie-dye crop top pajama set? Yes. Am I also more anxious and depressed than I've ever been and am deluded into thinking buying a set will miraculously improve my mental health? Also yes.
— Tanya
https://www.buzzfeednews.com/article/tanyachen/influencer-brands-are-staying-scarily-strong-and-are